SHOE SIZES
All Supadance shoes are made to English sizes. For the convenience of our many international customers we are pleased to provide these quick reference guides to approximate equivalent Japanese, European and US shoe sizes.
WIDTH FITTINGS
Some styles are made in a variety of width fittings. Select the appropriate width fitting from the drop down box when placing your order.
The difference between our wide and our regular fitting is 3mm. For extra wide fitting shoes the difference in width between our regular fit is 6mm.
Our wide fitting fits approximately half a size up in terms of width and the extra wide is approximately a whole size up in terms of width.
Our narrow fitting fits approximately half a size down in terms of width.
Pointed toe court shoes are approximately a half size wider than the rounded toe court shoes.
In general the fitting can vary between different styles so please take this into account before ordering.
When altering the width of the shoes, the width of the soles does not change only the Upper will alter in size.
The insole width is the same for narrow, regular and wide fitting shoes. The only part which changes is the Upper, which will increase in circumference for a wide fitting and decrease for a narrow fitting. If you need help with sizing please email us with the Style number you are interested in as well as your foot length, and most importantly the circumference measurement around the widest part of your foot.
THE TABLE GIVES AN EXAMPLE OF THE WIDTH FITTINGS FOR A SIZE 5 SHOE
Our width fitting table just shows our UK sizes, for instance if you are a UK 5 and unsure of which fitting to go for we would recommend trying the sizes shown in the right hand side column.
For example:
The width of the UK 5 Narrow is the same as the UK 4 ½
The width of a UK 5 Wide is the same as the UK 5 ½
The width of the UK 5 Extra Wide is the same as the UK 6
HEEL GUIDE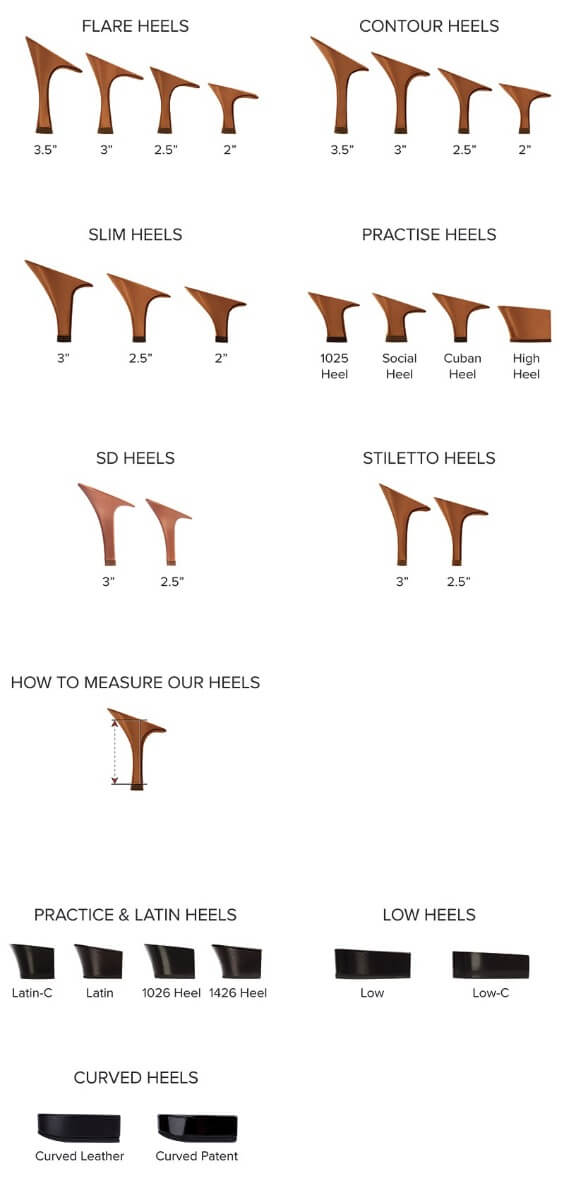 HEEL PROTECTORS
SD heels fit the CONTOUR heel protectors
CLOTHING DIMENSIONS
Kimono Dimensions
CHILDRENS KIMONO
Body length: 98cm Chest: 104cm Shoulder width: 46cm
ADULT KIMONO
Body length: 116cm Chest: 120cm Shoulder width: 55cm
Skirt Dimensions
SHORT SKIRT
Size S: 56cm / 22inches
Size M: 59cm / 23inches
Size L : 62cm / 24inches
LONG SKIRT
Size S: 87cm / 34inches
Size M: 89cm / 35inches
Size L: 91cm / 36inches
Tracksuit Style C Dimensions
SIZE XS
Chest: 57cm Waist: 53.5cm
SIZE S
Chest: 59cm Waist: 55.5cm
SIZE M
Chest: 61cm Waist: 57.5cm
SIZE L
Chest: 63cm Waist: 59.5cm
Tracksuit Style D Dimensions
Tracksuit Top
CM
XS
S
M
L
XL
Chest
40
42
44
46
48
Sweep
43
45
47
49
51
Sleeve
71
75
77
78
79
Arm Hole
18
19
20
21
22
Cuff
8.5
9
9.5
10
10.5
Neck Width
13.5
14
14.5
15
15.5
Neck Height
8
8.5
9
9.5
10
Centre of Back
65
67
69
71
73
Trousers
CM
XS
S
M
L
XL
Waist
25
27
29
31
33
Hip
46
48
50
52
54
Thigh
30
31
32
33
34
Leg Opening
24
25
26
27
28
Front Rise
25
26
27
28
29
Back Rise
36
37
38
39
40